Last year I listed twelve possible New Year's Food Resolutions your family could adopt and suggested giving ONE a spin. Which one did you choose, and how did you do?
According to a recent Wall Street Journal article, 60% of people have given up on their resolutions within six months, a figure I found surprisingly low. After all, the gym always calms down by March, and I figure "exercising more" must make the Top Two of Perennial New Year's Resolutions. Last year I aimed for the much lower bar of "take the stairs when they're an option" and have prevailed, although I admit I am rarely in places where stairs need to be taken because I spend a disproportionate amount of time parked in front of my computer. Basically it amounts to dragging my children up countless flights from Level 4 of the Lincoln Square parking garage to the cinemas at the top, the few times a year we go to the movies.
In any case, I've picked a couple New Year's Food Resolutions for 2013 and have tips for other ones:
1. Learn to make a decent loaf of artisan bread so I won't have to buy them at the store. This doesn't mean I'm giving up breads from the Bellevue Farmers Market by a long shot--I just want to have an option for your basic whole-wheatish loaf with a crunchy crust and something to eat in the off-season. Kathleen Flinn's book The Kitchen Counter Cooking School turned me on to "No-Knead Artisan Bread," which I plan on trying. I'll report back.
2. Swap out one kid snack food for something healthier. My thirteen-year-old asks me consistently to replenish "the snack shelf," i.e., the place where pretzels and crackers and chips are found. My son asked me to buy granola bars. After having reviewed Robert Lustig's excellent and alarming book Fat Chance, I'm determined (after getting through Christmas-cookie season) to reduce the amount of sugar and meaningless calories my kids consume, so they don't join the 40% of "normal-weight" individuals who harbor insulin resistance, that dreaded precursor to chronic metabolic disease. That means I'm going to make the effort (for at least six months, until I give up) to cut up fruits and make dips for cut-up vegetables. I'm going to slice cheese. I'm going to try recipes for homemade granola bars, starting with this one.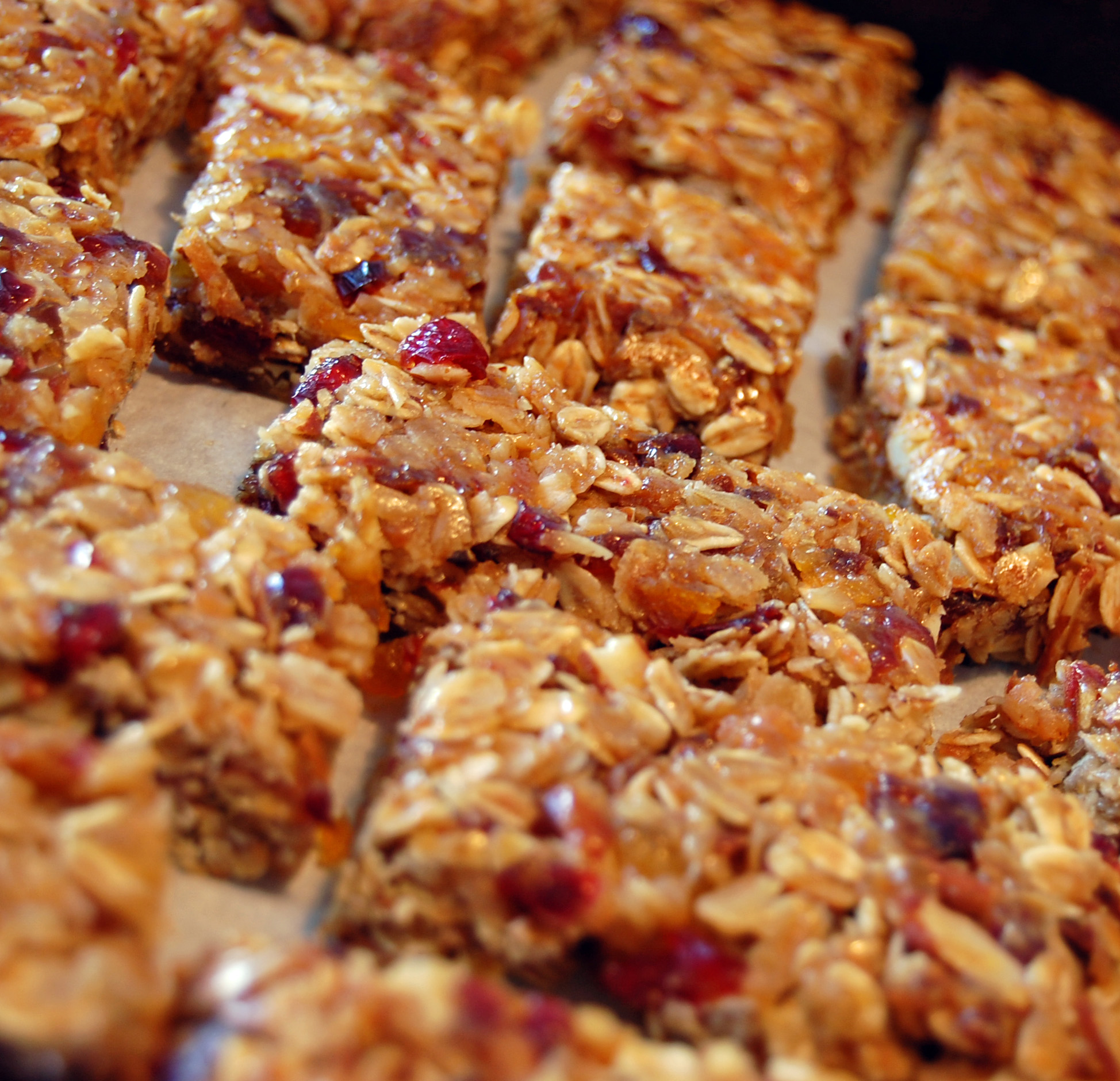 (Pic of Ina Garten's recipe courtesy of Penniesonaplatter.com)
No idea how it'll go because my son dislikes dried fruit. Might have to substitute chocolate chips, which hopefully won't completely negate the effort.
That's it! Don't want to bite off more than I can chew, so to speak.
But if you chose the resolution from last year to "substitute one homemade product for a storebought processed food," I have a couple more finds for you, both of which I have tried and found delicious. The first, perfect for leftover turkey, is Homemade Enchilada Sauce. The second, also perfect for leftovers and many, many casserole and crock-pot recipes is Homemade Condensed Cream of Mushroom Soup. Uh-huh. No more "open a can of..." I didn't have mushrooms and just made "condensed cream soup," and it worked wonderfully for turkey tetrazzini. Next time I make it, I might double the recipe and freeze half. You're welcome, and Happy New Year!