Don't know what you all did over the Labor Day Weekend, but we took off across the state to visit the in-laws. And because I'm all about food tourism, I dragged everyone to the Pasco Farmers Market. Would you believe it--my in-laws, who have lived in the Tri-Cities for 57 years (gulp!) had never been to the Pasco Farmers Market!
Note the dedicated permanent awning!
Where's Pasco, you ask? Oh, right about here: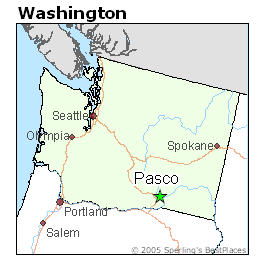 Why, thank you, bestplaces.net!
That location equals nice dry summer heat. And a fair amount of wind. And they sure grow some awesome things there. Things like
lotsa peppers.
So many peppers that they can do decorative things with them. Thus:
Or eat them and sell them, of course.
Look at those little bell peppers!
Then there were the
There were also funny squash I'd never seen before:
but which looked similar to the mutant butternut squash which have come up in our yard.
The homegrown oddball
Looks like a butternut inside...
The Pasco market sold baked goods and fresh cider like ours, and, instead of the hazelnut lady, we had the peanut guys.
There was one item I sure wish we offered at Bellevue--table grapes.
The grapes were as sweet as advertised, and it was nice to have some that hadn't had to come up from California.
Altogether, it was worth the little drive out. But I'm happy to report that we are good and spoiled with the abundance, variety, and quality of foods on offer at our Bellevue Farmers Market. We may be back to school, but don't miss the bountiful fall harvest this Thursday and Saturday!