It's that time of year again: time for the Seahawks to tromp their way to victory in the Superbowl. And time for the biggest eatfest outside of Thanksgiving dinner and the Christmas season, I'm betting.
Yes! Another excuse to eat crock-pot meatballs!
Because even the most non-woo-woo of us get superstitious around sporting events, I thought it wise to recreate the conditions of last year's triumph. Therefore, I invited myself and my family over to the house that hosted 2014's party. The hostess's only comment: "Just don't blog about it this time." Roger that. Hence, I am pre-blogging about the Superbowl.
This year I'm slated to bring my five-layer dip again, along with something veggie and something sweet. For the veggie something, I was thinking of a spinach frittata. And given my fondness for all things Deborah Madison, I found this one online, which may be the winner:
Nice picture, lifedivided.blogspot.com!
Or I may go with my own variation on Madison's Chard and Onion Omelet (Trouchia) from Vegetarian Cooking for Everyone. The pic doesn't look much different, but I subbed out a thawed box of frozen spinach for the chard, with satisfying results.
Spinach and Onion Omelet à la Deborah Madison
2 Tbsp butter
1 large onion, thinly sliced
1 box frozen spinach, thawed and squeezed of moisture
salt and pepper
1 clove garlic
6-8 eggs, beaten
2 Tbsp chopped parsley
2 tsp dried basil
1/2 tsp dried thyme
1 cup grated cheese of your choice
2 Tbsp grated Parmesan
1 Tbsp olive oil

Melt butter in a large skillet over low heat. Add onions and stir occasionally, until soft but not browned--about 15 minutes. Add the spinach and continue cooking until no longer moist. Season with salt and pepper.

Mince garlic and beat into eggs, along with the herbs. Combine with the spinach-onion mixture. Stir in cheese and half of the Parmesan.

Preheat the broiler on high. Heat 1 Tbsp olive oil over medium heat. When the pan is good and hot, add the eggs. Turn heat to low and cook until set but still moist on top, about 10-15 minutes. Sprinkle on the remaining Parmesan and heat under the broiler for just a few minutes, until browned.

Slide it onto a serving dish and cut in lozenges or wedges. Serve warm or at room temperature.

(For six adults one recipe will probably do because there will be so many other things to eat, and the kids won't touch it, I'm guessing.)

Or I may bring this salad that I had on another occasion and loved.


Even more delicious than it looks
It's called Chopped Thai Salad with Sesame Garlic Dressing from Pinch of Yum. I would substitute ginger for the lemongrass because who wants to buy a tube of lemongrass paste? And I might go half-olive-oil half-seed-oil because I'm trying to cut back on seed oils, and I might even substitute in slivered spinach and chard for the baby kale, but otherwise I love it. Kale haters would even love it because the assertive dressing and the baby-ness of the kale make it less kale-y.

Either way, anyone who took a helping of spinach frittata or Thai salad would feel entirely justified in filling the rest of his plate with bacon-wrapped meatballs and pigs-in-a-blanket!

As for the something sweet, February 1st marks not only the Superbowl, but also the end of our family's annual Sugar-Free January, meaning, we greet the return of desserts like Arctic explorers must greet the return of the sun after its long winter absence.

This weekend the hostess has the something-chocolate dessert covered, so I'm debating between lemon bars (the 11YO's suggestion) and Dutch-Almond Boterkoek, which I made for book club several months ago and willingly would have eaten the entire pan of. Let's go with the almond bar cookies...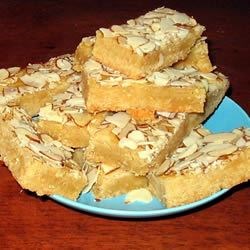 Pic courtesy of allrecipes.com, but they really do come out looking like this!
Super easy, super buttery, and super almond-y. I read somewhere that your body starts producing insulin even when you just think about eating certain foods, and I think if you look at this picture long enough, you could go test your blood and find actual proof.

Recipe here.

Happy partying and go Hawks!