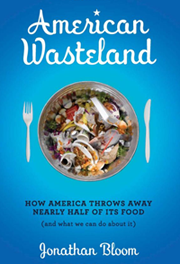 I've talked before about wasted food here, here and here. According to Jonathan Bloom, author of American Wasteland, we toss enough food every day to fill the Rose Bowl. That's a lot of wasted nutrition, effort, and money, not even considering the negative environmental impact and the whole there-are-kids-starving-in-X-country guilt factor.
This was on my mind as our family prepares to go out of town and leave the fridge unsupervised, all its remaining contents moldering quietly, only to be rediscovered and tossed on our return. Not this time, I vowed!
First I called upon that old standby, Rock Soup. If you remember the story, it's basically a hodge-podge soup made of whatever is on hand. In our case, I had leftover pot roast gravy with vegetables (all but about an ounce of the beef was eaten), leftover spaghetti noodles, and fresh onions, carrots, and celery. Since I'm not a cook-it-from-scratch kinda gal, I called upon Rachael Ray for inspiration. Here's her recipe, with my tweaks:
Rachael Ray's Rock Soup
Ingredients
2 tablespoons extra-virgin olive oil (EVOO), plus additional for drizzling
3/4 pound chorizo, casings removed and diced (I had 1/10 lb beef pot roast)
2 large russet potatoes, peeled and cubed (I only had the cooked potatoes in my pot roast)
4 ribs celery, chopped
4 carrots, peeled and chopped (reduced because I had some in the pot roast)
1 large onion, chopped
1 rounded teaspoon (about 1/3 palmful) sweet paprika
3 cloves garlic, finely chopped or grated
1 bay leaf, fresh or dried
Salt and freshly ground black pepper
1 15-ounce can chickpeas, drained (I used kidney beans)
1 15-ounce can diced or stewed tomatoes
2 tablespoons hot sauce (I cut this back to 1 tsp.)
6 cups chicken broth or stock (I used a combo of pot roast gravy and broth)
2 cups stale bread , cut into bite-size cubes (skipped this and added my spaghetti noodles)
A handful of flat-leaf parsley or cilantro, chopped, optional
Yields:
4 servings
Preparation
Place a medium-size soup pot over medium-high heat with 2 tablespoons EVOO, about 2 turns of the pan. Add the chorizo (or whatever meat you're using) and cook 2-3 minutes, until crispy. (Skipped this step because my meat was cooked.)
Add the vegetables, paprika, garlic, bay leaf, salt and freshly ground black pepper. Cook, stirring frequently, for 6-7 minutes, until the onions and celery begin to soften.
Add the chickpeas, tomatoes, hot sauce and chicken broth or stock to the pot then raise the heat to bring it up to a bubble. Once bubbling, reduce the heat slightly and simmer the soup until the potatoes are tender, 10-12 minutes (cooking time will depend on the size of the potato pieces). Remove the bay leaf before serving.
To serve, place a handful of bread cubes into each of your serving bowls and drizzle them with some EVOO. Ladle the Rock Soup over the croutons and garnish with some fresh herbs.
(I added the cooked spaghetti a couple minutes before serving to heat through.)
***********
Then last night I checked out the "crisper" drawer and found spinach, bell peppers, and green beans that would not survive our absence. If you like stir-fries, try this one, inspired by a recipe for Chinese-Style Spicy String Beans from Bon Appetit.
Clean-Out-the-Crisper Stir-Fry
Ingredients:
Whatever vegetables you want to use up. (Keep in mind that longer-cooking vegetables like broccoli and green beans should be pre-steamed for a few minutes so that they cook in the same amount of time as leafy greens.) Slice or chop the hard vegetables to stir-fry size. I left the spinach alone because it wilts down.
1 Tbsp toasted sesame seeds (you can do this in a dry frying pan or buy them toasted or leave out)
2 Tbsp hoisin sauce
1 Tbsp soy sauce
1/4 to 1-1/2 tsp chili-garlic sauce (we do the small amount for the kids)
3 Tbsp water
2 tsp cornstarch
2 green onions, chopped
Heat 1 Tbsp oil in medium skillet till good and hot. Saute vegetables until tender-crisp. Add sauce ingredients. Mix water and cornstarch and add to pan. Heat till sauce thickens. Sprinkle with scallions and sesame seeds.
***********
There you have my recipes for using up your farmers market goodies. Of all things, those fabulous vegetables should not go to waste. (Somehow I had no difficulty wolfing down my share of the luscious Jonboy caramel apple...)
For more great tips, check out Jonathan Bloom's "
15 Ways to Stop Wasting Money on Food
," as reported in
U.S. News and World Report
. Some tips are familiar (eat leftovers, don't shop hungry); others might challenge us (cook more, grow your own herbs). In any case, they're great reminders and worth a read.
As always, when you shop the Bellevue Farmers Market, ask the farmers how long things will keep, whether they can be frozen, what their favorite uses are, what they like to do with leftover X. Ask your fellow shoppers, as well. Sharing food know-how not only reduces waste, it builds community. The very best way to use up food? Invite friends over for a meal!