Happy Passover or Easter to you all!
Having been raised as a child with no religion at all, everything I learned about these holidays I learned from books. Take, for instance, Passover. Sydney Taylor wrote a wonderful series based loosely on her childhood, growing up in the Lower East Side of turn-of-the-century New York City, and her books served as my introduction to feasts like Passover, Purim, and Succos.
When Passover rolls around for this family, all the girls but mischievous Henny have been laid low by scarlet fever, but Taylor carefully describes what is found at the Seder meal and why. While the sick girls listen from the bedroom, the parents and Henny read the stories and perform the rituals and share the meal: wine, "matzoth," bitter herbs, hard-boiled eggs dipped in salt water, and then "chicken soup with matzoth balls (dumplings made of matzoth flour), chicken, vegetables, and stewed fruit.
On our recent trip back to New York we ventured down to Broadway and Canal and Orchard Streets to recapture a feel for the All-of-a-Kind Family era, where the family goes to the Rivington Street Market for fish and vegetables, candied fruits and Henny's pickle, all sold from the dozens of pushcart vendors.
The turn-of-the-century vendors are gone, but there were still plenty of pushcarts selling nuts and hot dogs, now manned by more recent immigrants. If you don't get around to picking up the books, the Huffington Post linked to this chicken soup recipe that the girls might have eaten at Passover.

[Photo: Cooking Light, 2012]
Two more favorite childhood book series for me were, of course, Laura Ingalls Wilder and the lesser-known Maud Hart Lovelace, and for Spring Break this year (which in the Bellevue School District has no connection whatsoever with either Passover or Easter in 2013) I've planned a girly literary pilgrimage with my daughters to Wilder's and Lovelace's stomping grounds. Yes, we're off in a couple weeks to wade through Minnesotan slush to explore Plum Creek and Lovelace's "Deep Valley" (Mankato). Now, Easter doesn't come up for the Ingalls family (they seem to be all about Christmas), but it rates frequent mentions in Lovelace's Betsy-Tacy books. Her Ray family, like Sydney Taylor's, tends to celebrate with hard-boiled eggs and chicken dinner, but in one spin-off book, Emily of Deep Valley, Emily visits Mankato's "Little Syria," populated by Lebanese immigrants, and shares their Easter foods. She makes particular mention of "Easter sweet cakes which were buttery, like doughnuts, and spicy. Kahiks, they were called."
Sounds tasty, but "kahiks" don't come up on a search. From the shape, they could be these "Lebanese Easter Cookies"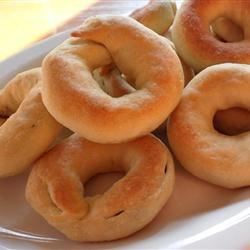 Lebanese Easter Cookies [Allrecipes.com]
or something called "Ma'amoul"--cakes stuffed with dates or sugared walnuts/pistachios. While I found this recipe for the latter, they look way too complicated, despite their beauty and my love for sugared pistachios.

Ma'amoul [from TheFoodBlog]
At least I can stick with the ubiquitous hard-boiled eggs, which appear across cultures and traditions. Old eggs work best for boiling and peeling, but if, like me, you forgot to stockpile, Tamar Adler has this suggestion in An Everlasting Meal: "I find that after a few minutes in an ice bath, once water gets under shells and loosens them, they come off fairly easily." Let's hope she's right.
Have happy holidays, and take advantage of the time off to read a good book!