Last night, as the kids' swim meet was lightninged-and-rained out for the first time in living memory, following last week's meet where everyone huddled beneath umbrellas and blankets, shivering and drenched, it was tough to remember why exactly anyone chose to live in the Pacific Northwest.
Ah, late-Spring/early-"Summer" in the Pacific Northwest, why the heck do we love you? Let us count the ways...
1. Drought? What drought? We laugh at you, Drought!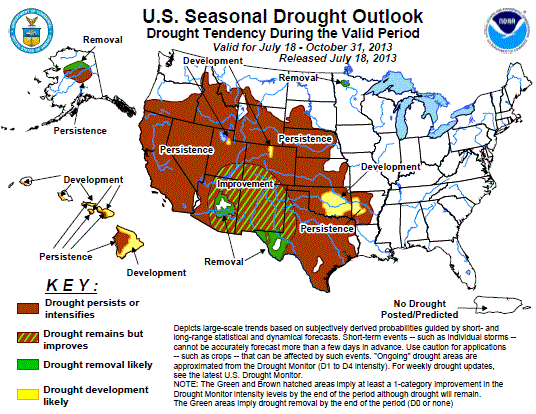 Wanna see this bigger? Go to the original site.
That's right. Washington State is largely drought-free, apart from the corner where my in-laws live (and the family grows wheat). There, drought might be "developing." The next time the rain pours down on us--likely in the next few minutes--think about the glories and blessings of water.
2. It's cherry season!
How bad can it get, if we can bundle up before a roaring, indoor gas fireplace, and pop pounds of these suckers? We have several more weeks of cherries still to go, so gorge yourself. I grew up on Bings, but this particular variety might be my favorite.
3. If we can't grill the salmon, we can buy it smoked or jerked!
Something about rain showers puts the literal damper on grilling outside, but this past week my family has been enjoying smoked salmon from Loki. Just take it out of the package and warm it a little in foil in the oven, which you probably already have going because you were trying to warm up the house. Delish. We liked the jerked salmon, too. Great, protein-rich snack for rained-out swim meets.
4. Oysters love the Pacific Northwest, so it can't be all bad.
Fresh shellfish, Thursdays and Saturdays
A & K Shellfish of Dabob Bay has clams and Crassostrea gigas, also known as the Pacific Oyster, Japanese Oyster, or Miyagi Oyster (something to do with The Karate Kid, I'm betting--this oyster's flavor will knock your block off).
5. We don't have to drown our sorrows with bad liquor. As the ads for cheap beer and other mass-produced alcoholic beverages advise us, "Please drink responsibly." But if you do imbibe occasionally, why not try the local, artisanal alternative? On Thursdays we have Rockridge Orchards' many varieties of soft and hard apple cider, including the "Bit O Bite" - apple with a dash of rhubarb!
And on Saturdays the Market welcomes Finnriver, an organic family farm and artisan cidery near Port Townsend. These lovely folks are making wine and cider with everything from apples to blueberries to pears to currants.
If you don't drink, the bottles are still beautiful to look at.
The bubbly stuff
And, for those of you who have begun looking at housing prices in Southern California,
6. July 4 is around the corner, which means the sun'll come out tomorrow!
An unretouched photo -- it HAS been sunny here!
So dry out those socks and take comfort, and don't let a "little" rain stop you from coming out to our Market.