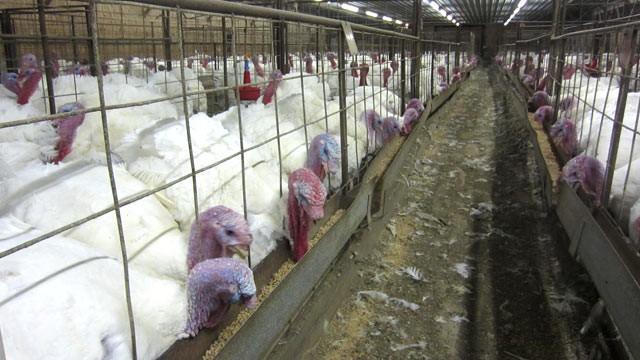 Your run-of-the-mill Butterball breeder
I'm on a mission. For the third Thanksgiving in a row, I bought a turkey from Skagit River Ranch. No matter that we would be spending the holiday with my in-laws, and that Christmas, too, was spoken for, protein-wise. I parked that fifteen-pound baby in the freezer and hunkered down for the major turkey-eating occasions to pass.
Now I've got to tell you, a humanely-raised local turkey, which grew up roaming organic pastures and supplementing its organic grain diet with delicacies like flaxseed and sea kelp, is no cheap date. Mine set me back $91, roughly double the price of a conventionally-raised gobbler as pictured above. (The photo is from an ABC news report on "turkey abuse" at a NC turkey "facility.") However, in my general addiction to Thrift, I've challenged myself to stretch that turkey into thirteen meals. Why thirteen? Because it makes the math come out even ($7 of meat and/or broth per meal for 4-5 people).
Meal #1: Fancy Turkey Sandwiches. When I used to work in the South of Market district of San Francisco, there was one deli that roasted a turkey every single day, slicing it up into the juiciest, most luscious sandwiches. My mouth still waters, thinking about it. When I planned Fancy Turkey Sandwiches, I had both them and Gilbert's on Main's yummy turkey bagel sandwich in mind. Ingredients: fancy artisan bread, cream cheese, homemade cranberry sauce, lettuce, and thin slices of cucumber. Two of my kids added cheddar.
Meal #2: Fancy Turkey Sandwiches.
Meal #3: Turkey Tortilla Soup. The very day I roasted the turkey, I stripped it of most meat, freezing the meat in packs of two cups each. Then I plunged the carcass in the stock pot with carrots, onion, and water and let it simmer most of the day. When that was done, I strained the broth and froze that in baggies of two cups each, leaving out enough for the first pot of soup.
Meal #4 Fancy Turkey Sandwiches. (I grant you, these were snow day lunches, every day after the first appearance of FTSes.)
Meal #5: Turkey a la King. Two cups of meat; chopped up, steamed vegetables; creamy sauce made with turkey broth, and egg noodles.
Meal #6: FTSes.
Meal #7: Turkey enchiladas. Mix the standard two cups of shredded meat with shredded cheese and salsa and roll 1/2 cup up in each 8" tortilla. Add a strip of cream cheese, if you like extra creamy. Pour enchilada sauce over, sprinkle with cheese and bake till it's how you like it. (I like the cheese not just melted, but browned on top. Maybe 30 minutes covered and 15 uncovered?)
Meal #8: Southern greens with Turkey leg. This one goes in the slow cooker along with some broth and a chipotle in adobo.
And that's how far I've gotten (apart from having just made myself an FTS on a leftover bagel I found in the freezer). I still have the frozen meat, broth, and enough wing and leg and neck bones to do another batch of broth. Thirteen meals shouldn't be a problem!
If you still have leftover turkey hiding out and a favorite recipe idea, please share. I've got pot pies and turkey-wild-rice casserole up my sleeve, but after that I may have to repeat. I think it's safe to say, however, that local/organic can still be thrifty if you put your mind to it. Next year I might need one turkey for the holidays and one for another thirteen-meal marathon!